How do you feel about being in the press?
Whether it be North East, Newcastle or nationwide as entrepreneurs the idea of having a piece of press coverage showcasing what we do, how we do it and how we help others is absolutely invaluable!
Portrait photos, editorial and documentary photography that tell an in depth story of who you are are and what you do is the single most reason my clients come to me for their imagery so that they have an archive of story telling photos to use in their marketing materials and press to enhance their brand.
Well this time, the lens was on me which ironically is never easy as I prefer to be safely behind the camera! It was my second feature in as many years in the popular Digital Photographer magazine published just late last year. They showcased me as a 'CV' with images, an overview of my work, my kit and experiences running my photography business to date. To see an image of me in print rather than just my images is always exciting so I wanted to shout about it.
You can have a read all about it below…. thank you so much Peter Fenech for choosing to feature me and my business just in time to share with you all on my 12th business birthday this month too!
Let me know what you think!
Sarah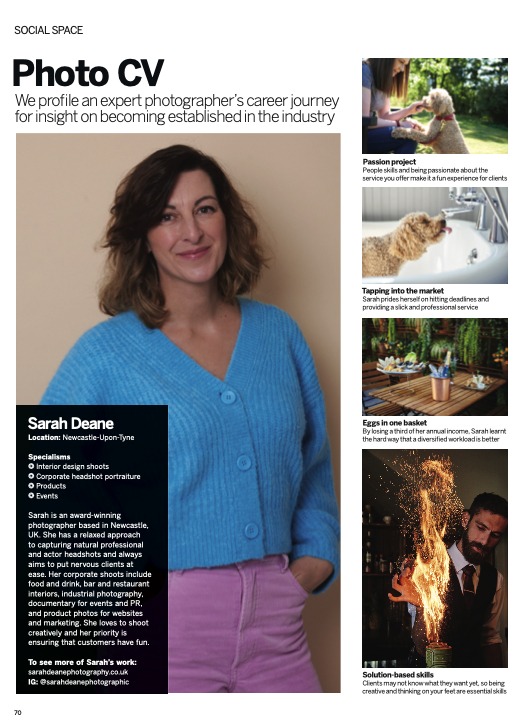 When did you start out and how did you get involved in your current photo genres?
I loved photography from school age and got my first Film SLR aged 16. Pictures of local architecture and my school pals were the main themes. I discovered the buzz of doing portraiture of strangers in my final year of
a Graphic Design Degree at Camberwell Art College and I furthered this during studio employment at Venture Portraits. I worked at the ND Creative ad agency and moved into the commercial sector with product
and marketing photography. With the tools I'd gained, I set up my own studio in 2011, shooting weddings, portraits and commercial.
What challenges did you face as a startup and how did you overcome them?
Adaptation is an essential skill for self- employment. Initially, I lacked the knowledge of how to run a business. I had good project management and marketing skills from my agency days, people skills from years at Venture and creative skills developed since I was a teen, but I had no idea how to handle accounts or tech issues, or how to consistently generate enquiries. I also was a single parent of a teenager and had no savings or funds, so money was tight. I knew I needed a studio to offer Venture- style family portraiture. I found a rented space that another photographer, Alex Telpher, had created by converting an old church in the suburb of Byker. His studio, his team and his shoots were hugely inspiring to observe when I was starting up mine.
But just two months into my business, my dad died unexpectedly, which was a huge setback. He had been my photographic inspiration and after some really tough times, I went back to my business feeling pretty raw but full of determination to succeed.
What challenges have you faced since?
I had to scale back when I lost my main client, meaning a third of my annual income disappeared overnight. It was a huge error putting all my eggs into one basket and some reflection was needed. Recently, I've had
to restructure how I work due to an auto- immune disease diagnosis that causes me chronic fatigue and joint pain. Limitations on the hours I can work, long commutes and carrying equipment have meant a rethink.
Another challenge is being taken seriously as a female in a male-dominated industry. One of my first big industrial contracts needed me to wear hard hats in factories and mines, working alongside mostly men. I remember seeing the all-male film crew I was working alongside sniggering behind my back, it was crushing. I later learned they thought my male client and I were having a fling!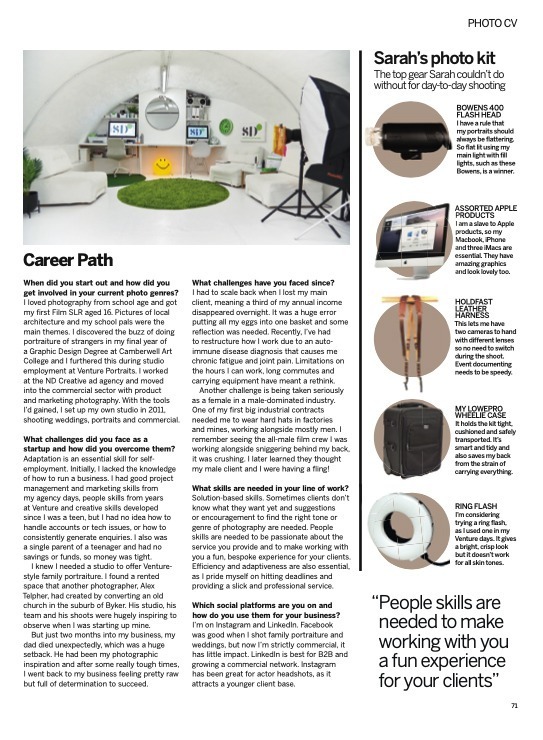 What skills are needed in your line of work?
Solution-based skills. Sometimes clients don't know what they want yet and suggestions
or encouragement to find the right tone or genre of photography are needed. People skills are needed to be passionate about the service you provide and to make working with you a fun, bespoke experience for your clients. Efficiency and adaptiveness are also essential, as I pride myself on hitting deadlines and providing a slick and professional service.
Which social platforms are you on and how do you use them for your business?
I'm on Instagram and LinkedIn. Facebook was good when I shot family portraiture and weddings, but now I'm strictly commercial, it has little impact. LinkedIn is best for B2B and growing a commercial network. Instagram has been great for actor headshots, as it attracts a younger client base.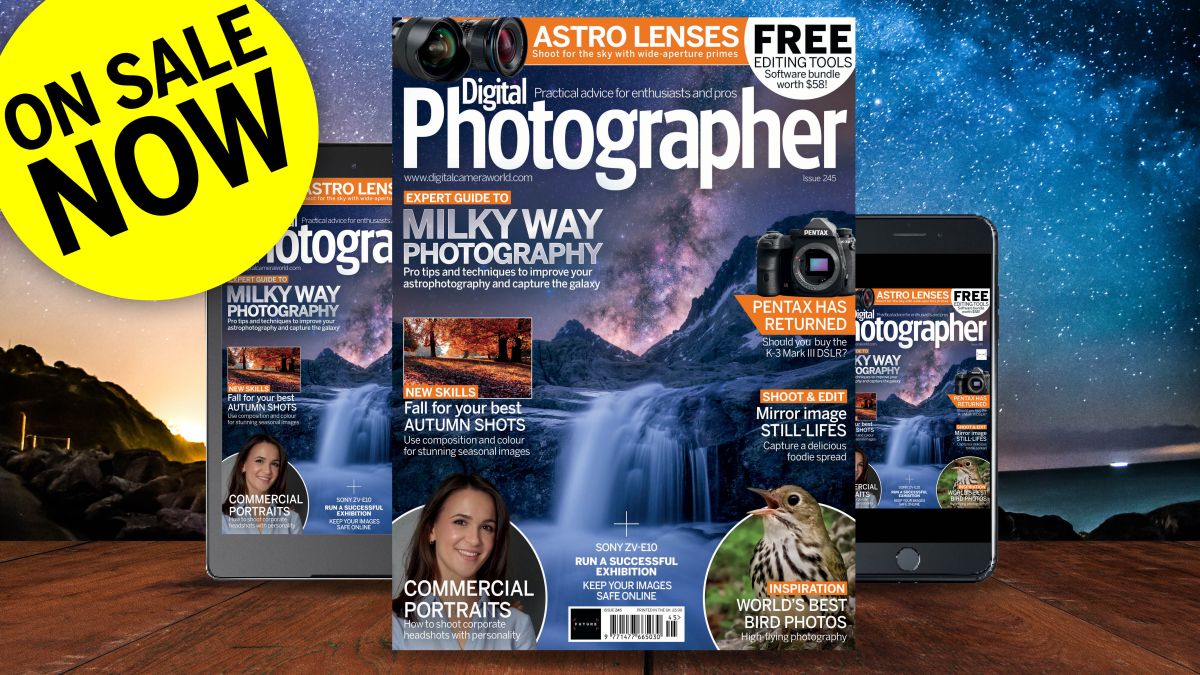 For sample editorial shots have a visit to my editorial and events gallery where you will see photography shot for medics, higher education, scientists, speaker, performers and schools here
I'd love to hear from you so please get in touch if you have any questions or would like a quote, I have a contact form on this page of my website here
Now please excuse me whilst I get back to the correct side of the lens! ;-)
https://www.sarahdeanephotography.co.uk/wp-content/uploads/2023/03/no2.jpg
360
1019
Sarah Deane
http://www.sarahdeanephotography.co.uk/wp-content/uploads/2018/07/Logo-New-1.png?_t=1530712617
Sarah Deane
2023-03-16 15:10:21
2023-03-16 15:11:43
Press Release Photography Focus