My wedding reportage photography is relaxed, creative and colourful. I am professional and personable and will quietly and confidently capture the special moments of your day, creating fantastic pieces of art for your album or wall.
I have over a decade of wedding experience and my years at Venture as a contemporary portrait photographer gave me an eye for relaxed and natural moments with a friendly approach and an assurance that will make you feel at ease. I will retouch all of your images to enhance colours and correct any imperfections.
2017 has a new pricing structure! Please don't worry if you have already booked- you will receive the package you chose when you booked me. New bookings will be given all of the images taken on the day edited and supplied at high quality and will hold the rights to print and distribute, this comes a set fee for a day's full coverage or at an hourly charge. Pricing details are below.
If you are interested in finding out more, please drop me a line to arrange a meeting or give me a call to discuss your day.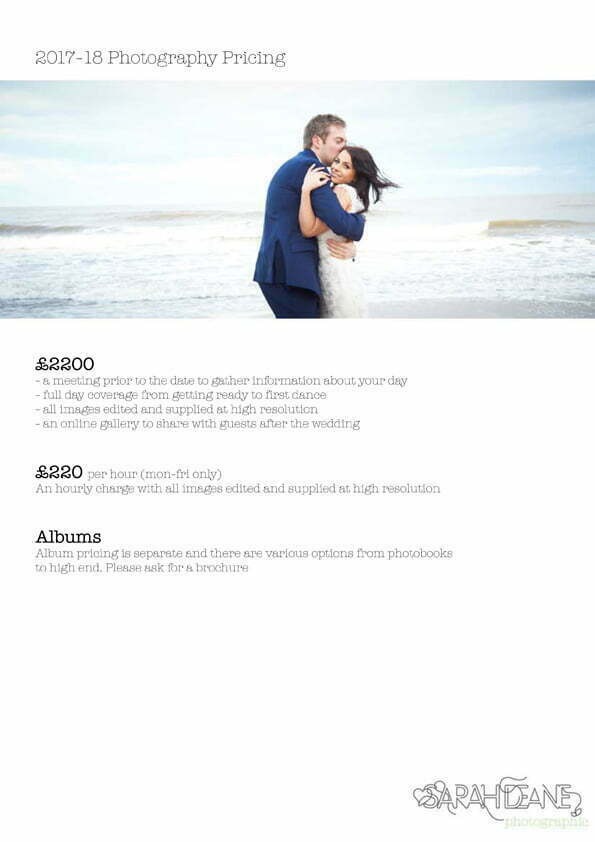 For the latest prices please get in touch and for images, albums and client testimonials download my Wedding Brochure by clicking on the link below:
Sarah Deane Photographic Wedding Brochure 
For latest wedding news please go to: